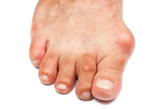 Don't be afraid of trading one problem for another – Nagler's perfected bunionectomy technique leaves little trace.
Know this: bunions are not the patient's fault. While healthy feet do wear the right shoes and Dr. Sherman Nagler, "Houston's Foot Doc," recommends preventing foot and ankle issues by following his simple tips, it's heredity and foot shape that are mostly to blame for this debilitating problem.
An unstable joint causes the deformation of bones and ligaments, most commonly appearing in the big toe. Bones gradually shift to unnatural angles, but the foot dutifully soldiers on, bearing the bunion's torture. Know this: Surgery is the only cure to stop it from growing even more painful and unsightly.
When asked about his unique cosmetic incision on the inside of the foot instead of the top, where most surgeons make their incisions, Dr. Nagler said, "I wanted to make the foot look better in a shoe." Know this: a bunionectomy is a simple procedure. However, Nagler is among a limited number of surgeons experienced in the special surgical technique which leaves very little, or no visible, scarring.
If a bunion interferes with your daily life, what fear stops you from getting help? In addition to his special technique to prevent scarring, Nagler uses a special pain pump during surgery that results in no, or very little, post-operative pain. If you notice a bump or have foot pain, your best option is to enlist the help of a good podiatrist.
"The foot is a complex and beautiful engineering marvel," said Nagler. "Treat yours with the respect they deserve."
Know this: The experts at Nagler Foot Center can help. Schedule an appointment to discuss the simple, corrective procedure online or by calling 713-893-5620.