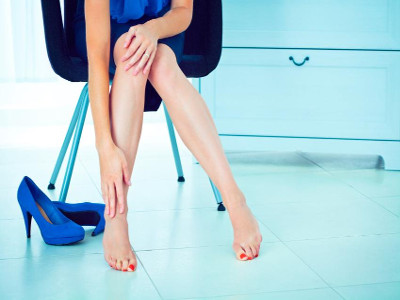 Sex in the City star Sara Jessica Parker revealed she has permanent foot damage after years of wearing high heels. She blamed "cheap shoes" as the cause for her damage.  The lower priced shoes had bottoms that were plastic and she attributed this to her multiple slips and twisting of her ankle.  She is now choosing flat shoes to accommodate for her foot pain and deformities that have been diagnosed by a doctor.
Was it the long term use of heels or truly only the cheap ones that caused the issue?  I would bet it was a combination of her inherited foot type, overuse of heeled shoes, many hours of contracting muscles that eventually caused issues to the foot as well as the multiple ankle sprains.  It is impossible to blame one pair of shoes.  When looking for shoes as a career woman it is best to remember to change it up. 
If you wear a heel one day follow it by a flat the next.  Don't make every heel a stiletto but instead alter it with a wedge or chunkier type heel. The higher the heel, the greater the pressure on the front of the foot.  A wedge shoe distributes your weight more evenly and offers support all the way through the foot. 
Materials of the sole and heel should provide cushioning and shock absorption. Avoid synthetics, a natural leather or suede insoles is more breathable and pliable, it will prevent chafing and blistering while molding to the foot.
Variability in your shoes will never leave you complaining like Sara Jessica Parker that one particular shoe was your problem.
Call Houston's Foot Doc for all foot problems. 713.529.1010 or visit our website at www.FootHouston.com