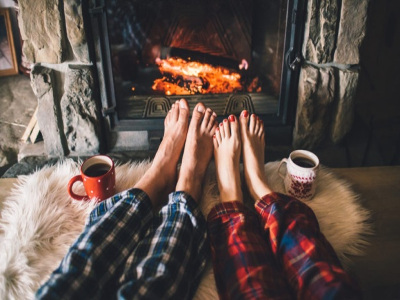 Ladies, give your toenails a breather and take your toenail polish off. If you can't stand "bare toes," regularly removing nail polish and applying a fresh coat can maintain bacteria and fungi hibernating underneath.
Cold feet? Restore the heat in your feet by soaking them in a warm bath. Afterward, use a foot cream in circular motions from the heel up to the toes. This not only warms them up but moisturizes them as well.
Dry Feet? Keep them hydrated with Vaseline or apply olive oil and sea salt. It may seem strange, but olive oil and sea salt have the ability to replenish moisture and gently remove layers of superficial dead skin.
  
Damp, sweaty feet can become cold easily and are more prone to bacterial infections. Keep your feet clean and dry by adding foot powder to your socks before slipping them into those warm winter boots.
For more info go to Houston Podiatrist Dr. Sherman Nagler www.foothouston.com
Tips for Athletes from Houston Podiatrist Dr. Sherman Nagler
When skiing or snowboarding, be sure to wear boots that are designed for that sport. Make sure these boots fit properly and you have room to wiggle your toes. Ski boots should immobilize the heel, instep, and ball of your foot.
Devoted runners don't let a little cold get in their way, so if you are one of them, be sure to dress for the occasion in warm, lightweight active wear. Always stretch before you begin your run to avoid muscle cramps and don't compensate for icy conditions by changing your foot strike. Instead, shorten your stride to maintain stability.
Ice skaters, be size smart. Properly fitted skates can prevent blisters, chafing, and ankle or foot injuries.
Remember to use good judgment when the winter wind starts to blow. Don't try to brave the snow and ice in summer-appropriate footwear. When feet are exposed to severe cold temperatures they risk frostbite and injury.
Always choose winter footwear that will keep your feet, warm, dry, and well-supported. Always keep dry.
Call Dr. Sherman Nagler with any questions about winter feet. www.FootHouston.com 713.529.1010