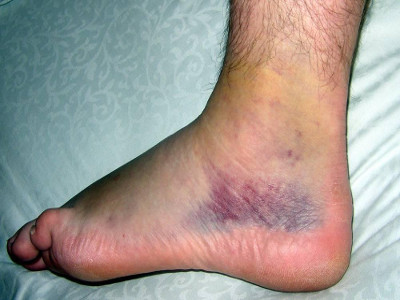 So you felt a pain while getting out of bed? Lost that spring in your step? Instead of being able to walk your way to get a cup of morning coffee, you realize you can hardly put weight down on your foot. In fact, you actually think you may have a sprained ankle? What's next?
What Type of Doctor Do You Really See for a Sprained Ankle?
As crazy as it sounds, you actually need to go see a doctor about this. A sprained ankle is no "little issue", as it can complicate other parts of your body where standing and even walking will feel almost impossible to do.
So if you aren't a pediatric or kid under 18, then going to your school nurse is out of the question, and  you will need to see a Foot and Ankle specialist. Call Houston's Foot Doc Sherman Nagler.
How Severe is Your Sprained Ankle? All depending on the severity, continuing to do daily activities as simple as walking can put you in a place to do more permanent damage if the sprain is correctly diagnosed. So if you think that you have, "slight twisted", "went down on your foot the wrong way", or somehow out of nowhere the mid to lower back of your foot and leg have swollen overnight, you actually may be looking at a severe sprained ankle. (or worse). Therefore, it's always a smart move to get a real diagnosis from a Podiatrist to correctly diagnose that what you have is truly a sprain, and nothing else.
If you are in Texas and feel you may have a sprained ankle, then feel free to call Houston's Foot Doc at Nagler Foot Center (713.529.1010) and visit our website at www.FootHouston.com.