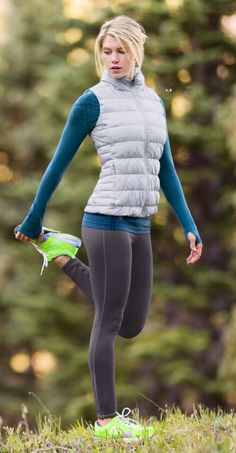 As a runner you very likely peeked out your window today to see how much it snowed overnight.  Your first thought might have been how bad will the traffic be?  But your second thought was probably how will the weather affect my run?
Of course many of you may have given up on that idea and are planning to head to the gym after work, but for those hardy souls that want to experience the winter wonderland here are some tips for running outdoors and staying safe at the same time.
Dress appropriately for the Weather
Although we're unlikely to have weather in the 20s if it's snowing you know it's going to be at least 32 degrees outside. While you'll warm up and get hotter the longer you run, you'll still want to avoid shorts to prevent hypothermia. At the same time you'll need to avoid bundling up too much so you won't get overheated. It's important to strike the right balance by wearing clothes that will keep you warm enough and wick away moisture from your body at the same time.
Some suggestions:
A North Face Jacket
A pair of Sport Hill Saga Tights from REI won't bust your budget and are both great cold, snowy weather solutions.
Don't forget gloves and a hat. You can always take them off once you've warmed up.
Choose Your Footgear Wisely
Wear trail shoes rather than your usual running shoes to give you more grip.
Lots of snow means you're going to need extra traction for your feet.
Socks such as Smartwool or another sock that wicks away moisture are also an essential addition. Even if your feet get wet you'll still stay warm.
Since our snow tends to be wetter in the lowlands avoid the slush and puddles that are very likely to form on the streets.
Stay Safe
Run during the day and/or wear a running vest or strobe light at night.
A shorter running stride can prevent you from slipping and falling.
Keep hydrated. Your body will require just as much water as if you were running in the summer.
Call us today at 713.529.1010 for an appointment. Often same day for emergencies. You can also request an appointment online. At www.Foothouston.com
Houston foot and ankle specialist, Dr Sherman Nagler offers foot care for patients with bunions, heel pain, diabetes, fungal toenails, ingrown nails, and surgical solutions in Houston and the surrounding areas.
Follow Texas Podiatrist Dr. Sherman Nagler on Facebook, Twitter and Google plus